We live in Washington State's beautiful Olympic Peninsula. We are fortunate to have a large property and our dogs have an acre of fenced yard and orchard to call their own. We are very involved in the dog show world training and exhibiting our dogs in Conformation, Agility, Obedience, Rally, Nosework and Tracking.
Howard started with Working Breeds and Lorraine in Papillons over 20 years ago. Lorraine is a past president of the German Pinscher Club of America, a member of the Mt. Rainier Working Dog Club and past president of our local club Hurricane Ridge Kennel Club. Each year HRKC holds an Agility/Rally/Obedience shows and an All-Breed Show.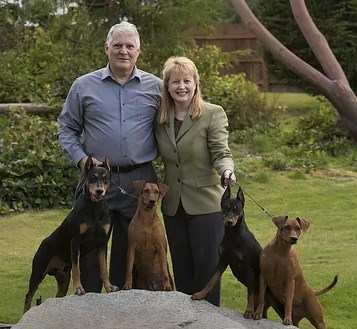 Today our family consists of one GP male Max, three female German Pinschers (Luna, Charm and Lilly) and two female Papillons (Dazzle and Angel). Our dogs are raised as part of our family and as a result they are happy, healthy and well socialized.
We are very proud to have bred and handled the 2010 German Pinscher Club of America National Specialty Best Opposite Sex/Best in Sweeps winner (Dreamer), the 2011 German Pinscher Club of America National Specialty Best of Breed Winner (Max) and the 2012 German Pinscher Club of America National Specialty Best Opposite Sex/Best in Sweeps/Grand Sweepstakes winner (Lady). Lady and Troy's daughter, CH Immer Treu Royally Chosen "Luna" won the Working Group in AZ in March 2016 and she is the only all natural German Pinscher to win the group in the U.S.! We produce a litter of puppies only when we would like to add a pup to our family and can improve the breed. We are very selective in making our breeding decisions in an effort to produce dogs with excellent health, temperament and conformation. The German Pinscher is a Working breed which means they must be structurally sound in both body and mind. We look for those dogs that not only fit the "type", meaning they look like a GP, but also have great movement and substance as well as a stable temperament. We feel very responsible for every puppy that is produced as a result of our breeding decisions. German Pinschers are a long-lived breed and our goal is to breed dogs that make wonderful family pets first and foremost. We always hope that the owners work with their dogs in some capacity, whether it's conformation or performance, because it develops a strong bond between them but our main goal is placing happy, healthy puppies in their forever homes.
Our Beginning
We discovered the German Pinscher breed in 2007 after extensive research to determine what would be the ideal breed for our family. We were looking for a mid-sized, energetic, loyal family dog who was capable of acting as home protection and we found that the German Pinscher met all of those criteria. The German Pinscher is an excellent vermin hunter and our dogs keep our property free of vermin and deer which we appreciate. Our first German Pinscher was "Bahn" AKC/INT'L CH Angelsun Attract Attention who was an excellent dog. Bahn was our foundation bitch and produced our first GP litter when bred to "Lukas" SILVER GCH/CAN/INTL CH Oakwood V Kaitlers Revival (Top winning German Pinscher in AKC history). Images of Bahn and Lukas are on the Pictures page. This first litter (Midnight Litter) proved to be exceptional, producing four champions out of seven pups including the 2011 German Pinscher Club of America National Specialty winner (Max), 2010 German Pinscher Club of America National Specialty Best Opposite Sex and Best in Sweeps winner (Dreamer), the 2010 #2 German Pinscher in Canada (Flame) and their sister Dash who finished her Championship in 2011. We imported Lady from Sweden in December 2011 and Diva from Holland in June 2011 to bring genetic diversity into our breeding program. They are both "Natural" German Pinschers with tails, dews and uncropped ears. It is illegal in most countries to crop and dock, however it is customary to remove dews and dock tails on the German Pinscher in the United States. Cropping ears is done primarily on dogs who show in the conformation ring as it is more difficult to finish a championship on an uncropped dog in the U.S.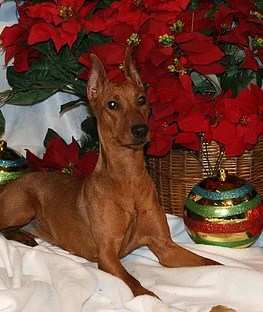 Olympic Peninsula
Washington 98331