Anita
When I became interested in German Pinschers I was very impressed with how much Lorraine and Howard did with their dogs and how knowledgeable they were about the breed. Their dogs aren't just show dogs, they do tracking, nose work, obedience and rally. They are breeding for the total package, a smart, good looking dog that is fun to live with and that can do anything you ask of them. I have two Immer Treu dogs and can't imagine my life without them. They are smart, funny and wonderful companions. Lorraine and Howard have become good friends. They are very supportive and very helpful when questions have come up and are always happy to hear about any accomplishments. I can't imagine not having an Immer Treu German Pinscher in my life. rnrn
Jennifer Redfern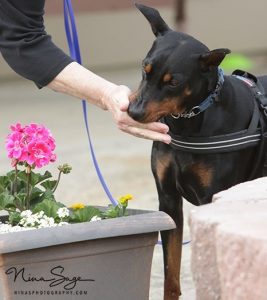 I own two beautiful german pinschers from Immer Treu. Lorraine and Howard provided valuable information to maintain their health and training and encouraged me to show our boy Winston (GCHB CH Immer Treu v Oakwood Braveheart). Our first german pinscher, Bahn (CH Angelsun Attracts Attention RATO) was the foundation of their kennel and our introduction to this breed. She is an active 13 yr old senior lady and still runs the house. Winston loves to work and we compete in rally, obedience, scentwork, FASTCAT and conformation. He is healthy and almost 7 yrs old. Lorraine and Howard focus on healthy happy puppies that will live a long and active life.
– 11/2019/06
Puyallup, WA
Kerri Jones
Lorraine (Immer Treu German Pinchers) is a caring, responsible breeder of GP's. This was extremely important to us when purchasing a puppy. She also just happens to be an extremely lovely person and someone who I have stayed in contact with for the life of my GP Avie. Lorraine has been a great source of information over the years and the continued relationship allows me to ask questions regarding my dogs health, temperament and training. She really is invested in the well being of her dogs. As for our GP, she is our middle child and gets along well with her older brother, Ron the Budgie, and is an excellent big sister to our son Paxton.
Rhea, Justin, George Rowan
Justin, George (the min pin), Rowan & I are doing very well. Rowan is just the cutest puppy ever! She is doing very well with her training. You should see her with a Frisbee she can jump 6 feet or higher & catches it every time! Rowan & George love to play together especially at our cabin where they can roam free in search of squirrels & chipmunks. Everyone is always commenting, "What a beautiful dog!", "What kind of dog is she?" I have given your contact information to several people over the past year who are interested in the German Pinscher. Before we got Rowan I really knew very little about the breed. We have been overjoyed by how easy she has been to train, her sweet & loving demeanor & how well she gets along with George.
– 07/2019/18
USA
Nell Coffman
My name is Nell Coffman and I am a mostly retired veterinarian living on Vashon Island. My husband and I first met Lorraine at the AKC dog shows in Seattle and became smitten with this breed.I was struck by how few health problems this breed has and that has certainly proven true with our dog. When we lost our last dog at 15 years of age, I contacted Lorraine and discovered that she had a litter that was 3 weeks old. We drove to Sequim several times over the following weeks and Lorraine and Howard were very warm and welcoming even though they clearly had a lot going on with the new litter. I have never seen such diligent, knowledgeable and caring people. It was so exciting for us to know that our puppy was handled and loved and conditioned to so many things for those early and so important weeks of her life. Our puppy has turned into a very confident sweet and intelligent dog. Koa is my 8th dog and by far the smartest and most affectionate dog I've owned. She is so playful and always upbeat, we both adore her. We are currently considering buying a Tesla so she would have the dog mode for cooling when parked.
– 07/2019/18
USA
Liz Hurrah
I bought my German Pinscher not as a first time dog owner as I had shown Chesapeake Bay Retrievers in both conformation and obedience, but I had never owned a German Pinscher. I have had to touch base with Lorraine many times as I run across difficulties with my dog, Lorraine has been there for me at every turn with suggestions and helpful training tips for German Pinschers. What I have achieved with Tau is star puppy, his CGC (Canine Good Citizen) novice tricks and intermediate tricks titles, I`m hoping to show in novice rally in the future, we have also had great fun with nose work.
– 07/2019/18
USA
Travis Stubblefield
Immer Treu German Pinschers and Howard and Lorraine are the absolute best! We got our first GP from them just over 6 years ago and he is hands-down the best dog we have ever had. Super sweet and smart, just a real pleasure. I really appreciate that they are very thorough in their vetting of new owners (to ensure their dogs are going to good homes) and that they are very selective in their breeding too. They provide great information in the lead up to getting your new family member and via facebook and email they continue to provide information and insight once you get them home as well. Lorraine has always been available and very quick to respond to any questions we have had. They are super involved in the GP community. We are actually picking up our 2nd GP from them in a few weeks!
– 07/2019/18
USA
Steven Lorente
I was fortunate enough to be able to adopt a young adult from Lorraine and Howard at Immer Treu. King has been an absolute joy to have. Its clear that he was well socialized when I got him and he wants to be around us all the time. Lorraine was very good at sharing a lot of feeding and caring tips with us which made it a lot easier to get started. Its clear that their pups are "home schooled" from the start and they care about each of their dogs and puppies going to the right homes!
– 07/2019/18
USA
JANUS SHOW DOGS Bob Shailer and Phil Lasswell
When we were looking for a quality German Pinscher puppy, we contacted several well known breeders. Lorraine & Howard were by far the most responsive in answering our questions regarding the breed. They are very dedicated to the socialization, health and training of their puppies. Howard and Lorraine provided us with numerous videos and did a skype comparison of their puppies. We were looking for a show quality male and they offered us the "pick" of the litter named "Thor". Thor came to us very well socialized and had the awesome outgoing temperament we were looking for! Thor easily became an AKC Champion and a Best in Show UKC Champion. He easily passed all his required health testing and sired his first litter. We are forever grateful for their experience, ongoing support and friendship!
– 07/2019/18
Benson, AZ
Olympic Peninsula
Washington 98331