Nutrition
Proper nutrition is the foundation for a healthy dog. We researched several brands of food and we feed Orijen and Acana (made in Canada) in the morning and Honest Kitchen Embark (dehydrated raw) mixed with frozen raw (Northwest Naturals) in the evening. This combination produces lovely coats and healthy dogs. The only supplements we add are probiotics and enzymes which aid in digestion. Proper nutrition is vital and dogs fed a high quality diet in the proper proportions will live to their potential.
Feeding your pet correctly will help to avoid unnecessary veterinary costs and extend the life of your dog well into their teens. Your dog will continue to be active and energetic throughout his life when given proper nutrition, exercise and love.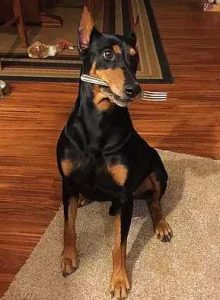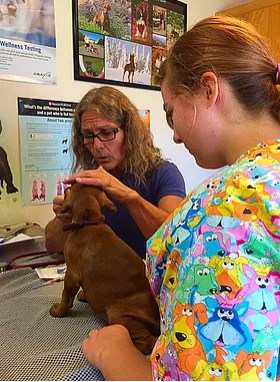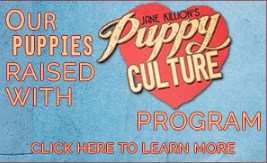 Health
The puppy will be microchipped with first shots and parasite free when delivered to the puppy buyer. A health certificate is required for shipping purposes and Rabies Vaccine is not given until the puppy's are over 12 weeks of age. Below is a link to the current vaccine recommendation schedule for most dogs. Vaccines are important and must be given but care must be taken on the schedule and doses to minimize risk to the dogs. The recommended non-core vaccines your puppy receives will vary depending on the area in which you live. You will also need to protect against Heartworm if you live in an area where Heartworm is present.
http://www.peteducation.com/article.cfm?c=2+1648&aid=950#
Many breeders and dog owners have concerns about puppy and dog reactions to vaccines. A study of this issue is written up in a two page non-technical language report, that specifically addresses this issue in the German Pinscher breed. You can access the study which is entitled "Post-vaccinal reactions in German Pinschers –preliminary report" by clicking the link. While the report title includes "preliminary report", we have been unable to locate any final report and the most current study referenced in this report in 1998. We have no reason to believe that there is any more current report that is specific to German Pinschers. There are German Pinscher lines that produce vaccine reactions and the puppies react to the first Distemper vaccine they are given. This reaction can range from mild symptoms (lethargy, vomiting) to severe (seizures and death). Most puppies that survive the first distemper vaccine appear to have no reactions to future distemper vaccinations. The treatment for vaccine reaction is Prednisone in a fairly high dose. Your puppy will have his first distemper vaccine while at our home so we can deal with any potential complications.
We have been very fortunate and only experienced one vaccine reaction which was in our recent import from Sweden, Lady. After being treated with Prednisone, she was completely fine the next day showing no signs of any issues and had no reaction to her subsequent distemper vaccine.
Olympic Peninsula
Washington 98331