IMMER TREU GERMAN PINSCHERS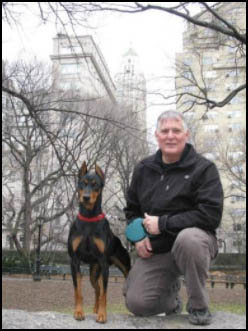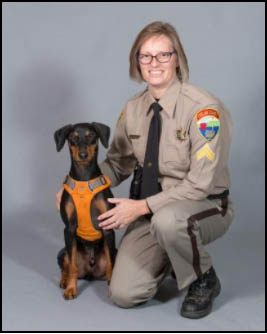 "Immer Treu" is German for Always Faithful, which is appropriate as German Pinschers are, by their natures, true to their people, and they originated in Germany. We are very pleased that our Max/Diva litter produced the first German Pinscher to work in Law Enforcement. "Spur" was purchased by the Chelan County Sheriff's Office trained by his partner, Deputy Haynes as a Search and Rescue dog. Spur and Deputy Haynes worked over 200 Search and Rescue calls from 2015 – 2019. In 2019, Deputy Haynes was injured on the job and Spur is now retired and living with Deputy Haynes and her family as a beloved companion. At Immer Treu German Pinschers we breed and import quality German Pinschers bred for the best in Health, Temperament and Type. Our dogs compete in Conformation and Performance Events. We breed on a very limited basis to produce the best examples of the Breed and our puppies are sold to owners committed to giving their new family member a loving, forever home..
About The Breeders
We live in Washington State's beautiful Olympic Peninsula. We are fortunate to have a large property and our dogs have an acre of fenced yard and orchard to call their own. We are very involved in the dog show world training and exhibiting our dogs in Conformation, Agility, Obedience, Rally, Nosework and Tracking.
Howard started with Working Breeds and Lorraine in Papillons over 20 years ago. Lorraine is a past president of the German Pinscher Club of America, a member of the Mt. Rainier Working Dog Club and president of our local club Hurricane Ridge Kennel Club. Each year HRKC holds an Agility/Rally/Obedience shows and an All-Breed Show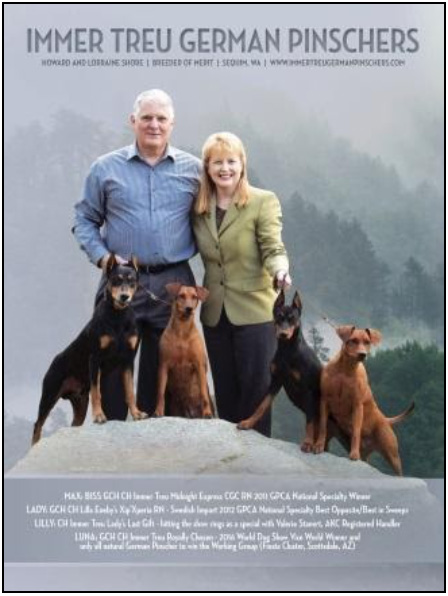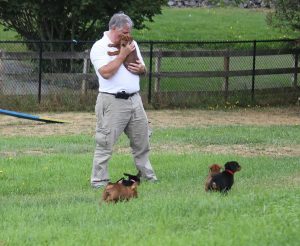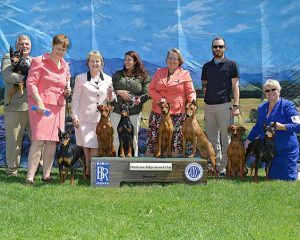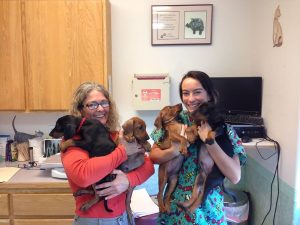 BY VICKIE RONCHETTE Jun. 24 Sitting at ringside at a large dog show recently, I spotted a woman getting ready to go into the group ring with her...
CH IMMER TREU ROYALLY CHOSEN "LUNA" By Lorraine Shore I had a wonderful opportunity this year to attend the World Dog Show held in Moscow, Russia....
I own two beautiful german pinschers from Immer Treu. Lorraine and Howard provided valuable information to maintain their health and training and encouraged me to show our boy Winston (GCHB CH Immer Treu v Oakwood Braveheart). Our first german pinscher, Bahn (CH Angelsun Attracts Attention RATO) was the foundation of their kennel and our introduction to this breed. She is an active 13 yr old senior lady and still runs the house. Winston loves to work and we compete in rally, obedience, scentwork, FASTCAT and conformation. He is healthy and almost 7 yrs old. Lorraine and Howard focus on healthy happy puppies that will live a long and active life.
When I became interested in German Pinschers I was very impressed with how much Lorraine and Howard did with their dogs and how knowledgeable they were about the breed. Their dogs aren't just show dogs, they do tracking, nose work, obedience and rally. They are breeding for the total package, a smart, good looking dog that is fun to live with and that can do anything you ask of them. I have two Immer Treu dogs and can't imagine my life without them. They are smart, funny and wonderful companions. Lorraine and Howard have become good friends. They are very supportive and very helpful when questions have come up and are always happy to hear about any accomplishments. I can't imagine not having an Immer Treu German Pinscher in my life. rnrn
Lorraine (Immer Treu German Pinchers) is a caring, responsible breeder of GP`s. This was extremely important to us when purchasing a puppy. She also just happens to be an extremely lovely person and someone who I have stayed in contact with for the life of my GP Avie. Lorraine has been a great source of information over the years and the continued relationship allows me to ask questions regarding my dogs health, temperament and training. She really is invested in the well being of her dogs. As for our GP, she is our middle child and gets along well with her older brother, Ron the Budgie, and is an excellent big sister to our son Paxton.
Olympic Peninsula
Washington 98331