FIRST GERMAN PINSCHER IN U.S. LAW ENFORCEMENT
Deputy Monika Haynes
I have worked for Chelan County Sheriff's Office on patrol for 19 years now. In 2013, the Chelan County Sheriff's Office received two donations to purchase another Patrol canine and a Search and Rescue canine. I was very interested in becoming a canine handler and after passing the testing process was selected as the handler for our new SAR canine. Chelan County has a total area of 2,994 square miles and is home to Lake Chelan and numerous hiking trails. Each year the Sheriff's Office receives several search and rescue calls and having a SAR canine is a valuable asset to our department.
My research for a SAR dog began with the American Kennel Club website. Working breeds are known for their adaptability in various terrains which is valuable in search and rescue work. In reading about the German Pinscher, their size, energy, work ethic, prey drive and keen sense of smell, I determined it would be ideal for search and rescue work. I was referred to Immer Treu German Pinschers by a member of the Mt. Rainier Working Dog Club. I contacted Lorraine and Howard Shore in Sequim, WA and spoke to Lorraine about the breed. Lorraine and her husband are both retired law enforcement and know what a lot of the expectations are for police dogs. They are very active with their German Pinschers training and showing in Conformation, Rally, Agility, Nose Work and Tracking so they could honestly tell me if the German Pinscher was the breed of dog I was looking for.
On December 12, 2014, Spur was born! His parents, Max "BISS GCH CH Immer Treu Midnight Express RN CGC" and Diva "CH Pretty-Dutch-Diva von Cronestein RN CGC" are both excellent tracking dogs that demonstrated great work ethic and temperaments. A Search and Rescue dog must have a stable temperament and a good work ethic. In addition to tracking and search and rescue, the dog selected for my Department would be trained as a cadaver dog. While most working dogs will track live subjects and find articles, it takes a special dog to find human remains.
To determine which pup would be the best candidate for the job I brought trainers from the National Search Dog Association (NSDA) to the Shore home when the pups were six weeks old for Cadaver Aversion Testing. This test was to determine the reactions of the pups to the scent of human remains. A human patella was used as the body part in the test. The patella was placed into a jar with holes for the scent. Only the males in the litter were tested as I specifically requested a male. The pups were identified by collar color and the test was videotaped. With the NSDA Trainers, I and the Shores watching the reactions, we each determined that the red collar male had the best reaction to the cadaver scent. He showed curiosity, but not concern, and did not have a negative reaction where the blue and green collar boys both showed suspicion and concern when they reacted to the scent. The final test was conducted when the pups were seven weeks old. Howard and Lorraine Shore use the Puppy Aptitude Test (PAT) created by Jack and Wendy Volhard on the pups in each of their litters. This test is used to determine temperament traits of the individual puppy which is helpful in determining placement of each puppy. This test was very important in determining which puppy would be the best fit as a SAR K9 in addition to the Cadaver Aversion Test. Following is a description by the breeders of the testing given to the pups: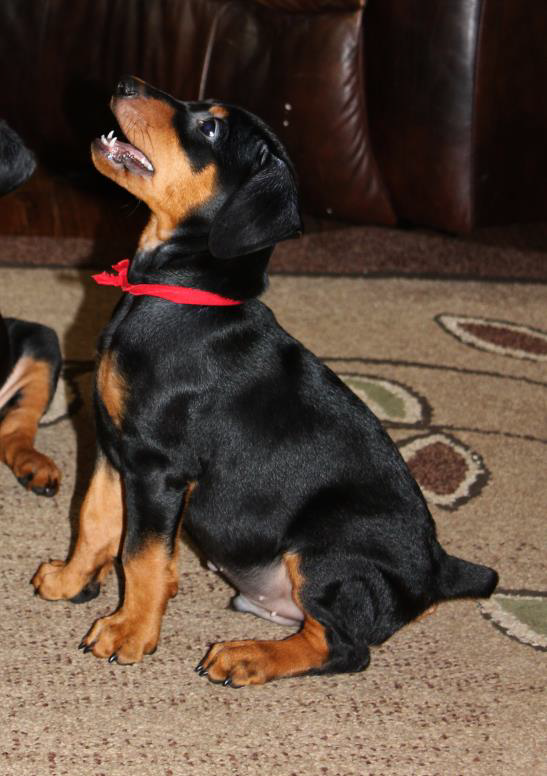 1-30-15 (Day 49) – Temperament Testing using the Puppy Aptitude Test created by the Volhards was conducted with trainers Georgia Towle and Patty Greeny along with our friend Elemi who helped make sure all instructions were followed. Georgia is a certified trainer and this is the third litter she has tested for us. The pups were given 10 tests and scored on their initial behavior. This testing process is a great tool for our puppy buyers to get insight into their individual puppy's personality which allows them to tailor their training methods to best suit their new pup. Some puppies have higher prey drive than others, some may be sensitive to touch or sounds and some may be more cautious than others. We rely on this testing process to accurately match our puppies with their new owners and it has worked very well for us. This testing was essential in determining whether one of the pups was suited for Search and Rescue work and Red Collar Boy tested perfectly for the job.
In February 2014, I picked up 10 week old Spur "Immer Treu Voyage Home" from the Shores. I picked Spur up in our K9 SUV and he has gone to work with me from that moment on. He has met all the Starbucks employees in Chelan County. When I am not on a call, I usually have Spur out of the car and we are working on recalls and basic obedience. He hangs out in the office when I am writing reports. Night shift was a little tiring for him so I usually tried to get him home by 0200 hours so he got decent sleep. Spur and I attended the 2015 SAR Conference which was a great experience. We are looking forward to this year's SAR Conference which will have a number of sessions designed for canine teams.
Search and Rescue Dogs in law enforcement are trained to search and locate missing persons as well as human remains. They can be trained to locate a specific scent (Trailing or Tracking) or to follow any human scent (Air-Scenting) whether it's a live person or human remains. I decided to train Spur for trailing. His nose was always on the ground tracking something in our yard; except when he would need to air scent to determine the exact location of his quarry. As a trailing dog, Spur will locate missing persons using a scent article starting where the person was last seen and he may work on or off lead during the search. He will be trained to trail a person over a variety of terrain following the scent on the ground or in the air. I began his training with hotdogs on the ground in the footprints of a track layer which taught him to associate the human scent with treats. Eventually treats were slowly removed from the track and Spur was rewarded when finding the "lost" person. A fun part of his training was finding my kids in the yard. My kids were playing hide and seek one day and I heard my youngest son tell Spur to "go find Soren", which he proceeded to do. Needless to say arguments ensued about the use of Spur for hide and seek.
We train weekly for approximately 2-3 hours. We are going to be adding every other Saturday now for longer training sessions. Our issues, of course, are mainly with me. Because we are a team, my training is just as important as his and understanding each other's language is paramount. We are strictly working soft tracks at this point that range about 1/4 to 1/2 of a mile with approximately 4-5 corners. I am going to be working in some scent discrimination training in March. We are slowly and steadily making progress.
I have been partnering with one of our CCSOSAR Volunteers in the training process. He is training his dog for wilderness air scent so we will have two SAR dogs with different skill sets. The difference between the dog searching by air scent and a trailing dog is Spur will be trained to search a specific scent where the air-scenting dog is trained to follow any human scent and not necessarily a specific person. We meet weekly with some of our SAR volunteers who set trails and hide for us. We have gotten to longer trails with Spur, but haven't added a lot of time delay as of yet. We will be progressing toward that over the next year.
A trailing dog is expected to be able to follow a 24-hour-old trail prior to testing. To become operational, the dog and handler team works a mile-and-a-half to two-mile-long trail which is aged 8 to 12 hours and contaminated with other people's scents. It takes a tremendous amount of training before a SAR K9 can be deployed in the field and Trailing canine teams take an average of three years training up to 1000 hours per year before testing. I am starting an official AKC obedience class this month so Spur can get his Canine Good Citizen Certificate as obedience is a must for a working canine. Spur has been an amazing addition to our family and to our community. I am regularly asked by the public what breed of dog he is and then told he is the exact size of dog they want. I would say
Spur is being a good spokesman for the German Pinscher breed here in Central Washington.