CH IMMER TREU ROYALLY CHOSEN "LUNA"
By Lorraine Shore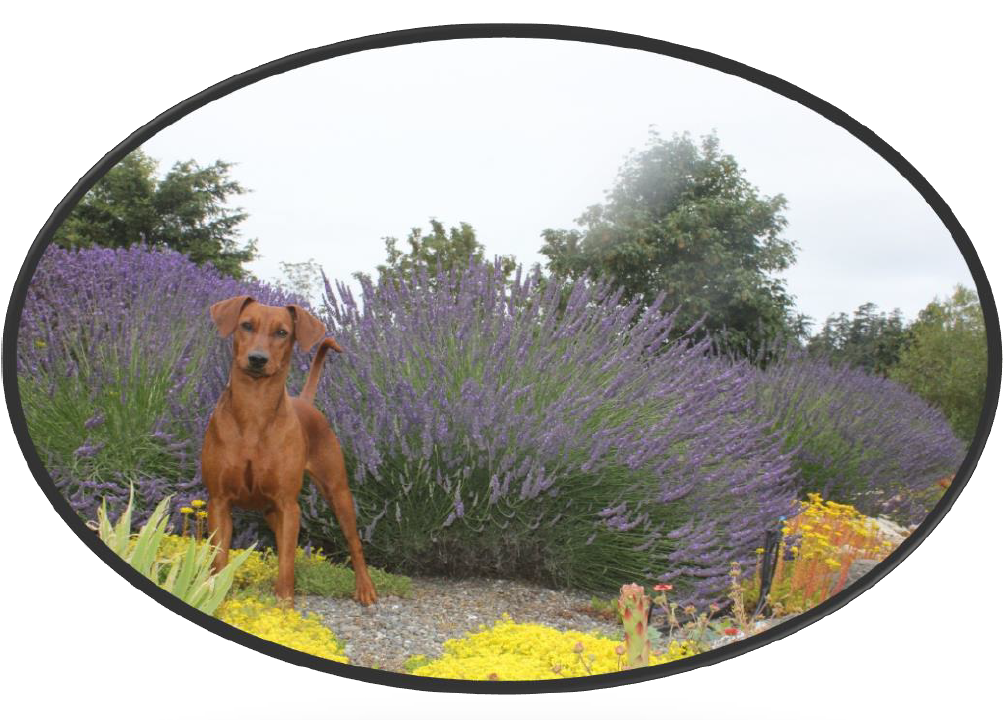 I had a wonderful opportunity this year to attend the World Dog Show held in Moscow, Russia. This was the first World Show I have attended and the first time it has been held in Russia.
It all started in January when talking to some dog show friends who asked if I would be attending the World Dog Show. I asked where it was going to be held and told Russia. I was born and raised in Alaska which is as close to Russia as I ever thought I would get but decided to ask my good friend and travel agent, Susan Parr what it would take to get to Russia. Susan booked a ticket for me on Lufthansa and reserved the crate which was the easy part and the beginning of a great adventure!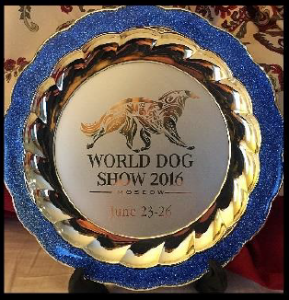 Booking the hotel required a great deal of research as initially I booked the Hotel Aquarium which was at the venue, the Crocus Expo Center. Luckily my friend, Chris James who was to accompany me on my trip called to tell me she saw on the internet that hotel did not accept pets! Thankfully Susan was able to cancel that reservation and I ended up booking the Marriott in downtown Moscow which turned out to be a fabulous hotel!
Once the logistics of how to get there and where to stay were accomplished, I decided I better buy an IATA Crate for Luna. I purchased a stunning bright red aluminum crate from Impact Case that was not only the best crate for Luna but also caused quite a spectacle everywhere we went. Even a WDS Judge came over to me at the airport to compliment me on having such a great crate for my dog.
Entering the WDS was a bit of a challenge as the RKF website changed several times. I wanted to enter Luna in the Champion Class, however by March Luna only had the AZ shows that held the promise of her much needed last Major and her last chance to finish before flying home. I flew down to AZ with Luna's sister, Lilly in March hoping that Luna could win the Major she needed. Luna was being handled by Valerie Stanert and the first day, Lilly beat Luna for the Major which is so typical when you are hoping the other dog wins Luckily Valerie and Luna showed beautifully and won the next two days finishing off the final day with a Best of Breed and a Working Group Win! What a way to finish Luna's Championship and now she would be eligible for the Championship class at the World Dog Show!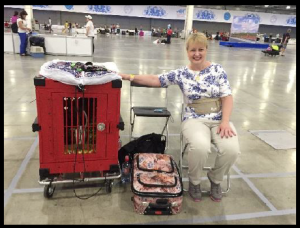 Luna and I returned to WA State at the end of March and the next big challenge would be to figure out what vaccinations and records I would need for Luna to get her into Russia and satisfy the World Dog Show requirements. This would have been very easy when dealing with most countries, however Russia does not have agreements with the United States and according to the USDA, does not provide information on the specific forms they require. Fortunately, I was able to find the required vaccinations and poor Luna ended up having to be revaccinated for Parvo/Distemper/Adenovirus as Russia does not recognize the three year vaccines we give in the U.S. Additionally, she had to have Leptovirus which is not a vaccine I would normally give however she had no reactions and it turned out fine. These vaccinations could be given no longer than 12 months prior to flying and no earlier than 30 days before flying.
Since Russia did not provide guidance on the paperwork, I found a company that provided papers that Russia would accept. It was quite a stack of forms for my vet, Dr. Linda Allen to complete but we managed to get through all of them!
I ended up having to get a booster for Tetanus, Polio and Diphtheria which gave me quite the bruise but was otherwise quite easy to take. Getting a Russian Tourist Visa was not difficult but it was expensive! After receiving my Visa, it finally started to feel real and I called the USDA Vet to make an appointment to have all the forms stamped and signed so we could fly to Russia!
I was all packed and ready to go and the day before flying drove the 2 ½ hours to the USDA Vet for my 9am appt. Imagine my surprise when I was informed I didn't have the correct paperwork because Russia changed their requirements! I had four hours to get my vet to fill out the APHIS 7001 form, drive back to Sequim and then return to Tumwater. Since I have no magical powers, it was only through the awesome efforts of Dr. Allen and her wonderful receptionist Kelley who drove over an hour to meet me with the paperwork that I was able to make it in the nick of time with minutes to spare!
Once the paperwork fiasco was worked out, it was now just a matter of getting on the plane and flying to Russia. Thankfully the trip was smooth sailing from that point on!
After 14 hours in the air, a 4 hour layover in Frankfurt, Luna and I made it to Moscow! We were met by a driver holding a sign just like in the movies and he managed to get her huge crate and our luggage into his van. The hotel was an hour drive from the airport, however Moscow has 15 million people and everyone must have a car because the traffic was the worst I have ever seen! Not only was the traffic terrible but the driving was even worse. There is no concern for speed limits, lanes or traffic signals when it comes to driving in Russia and shockingly enough after two hours of combat driving, we made it to the hotel without a scratch.